The country is brimming with great shows, from the second Thailand Biennale to exhibitions by artists like Ho Rui An and Apichatpong Weerasetakul
Located outside the traditional Thai artworld centers of Bangkok and Chiang Mai, Korat, the capital of the north-eastern Isan region, is currently hosting the Thailand Biennale. Now in its (delayed) second edition, the biennale features work by 53 artists and collectives. Visitors can join group hypnotherapy sessions organized by the Danish collective Superflex at the Korat Fossil Museum, interact with a newly commissioned sculpture by Akras Pornkajornkijkul at Bung Ta Lua Water Park, and view site-specific works at the Thai Crane Research Center within the Korat Zoo. Themed around sustainable development, the biennale also poses interesting questions to the city itself, as the region attempts to promote tourism and investment while simultaneously remaining true to its roots.
The biennale is only one of many noteworthy exhibitions taking place in Thailand right now. Here are six highlights.
Arin Rungjang, 'Oblivion'
Nova Contemporary, Bangkok
Through February 5, 2022
In this exhibition of text, video, painting, and installation, Arin Rungjang addresses the theme of 'oblivion' through a poetic interweaving of narratives of loss. Some of these narratives are intensely personal, including the recent death of the artist's sister, and the violent death of his father when he was young. Other threads refer to a more communal sort of loss, as he shares the stories of Isan miners who saw the lush wilderness obliterated by mines and farms and who witnessed the slaughter of leftist college students in the aftermath of Black May in 1992. In the center of the gallery sits a grand piano – a bitter reminder of the artist's childhood music lessons that his mother couldn't afford after his father's passing. The odor of iron ore fills the room, juxtaposing the pain of the individual with the pain of the land.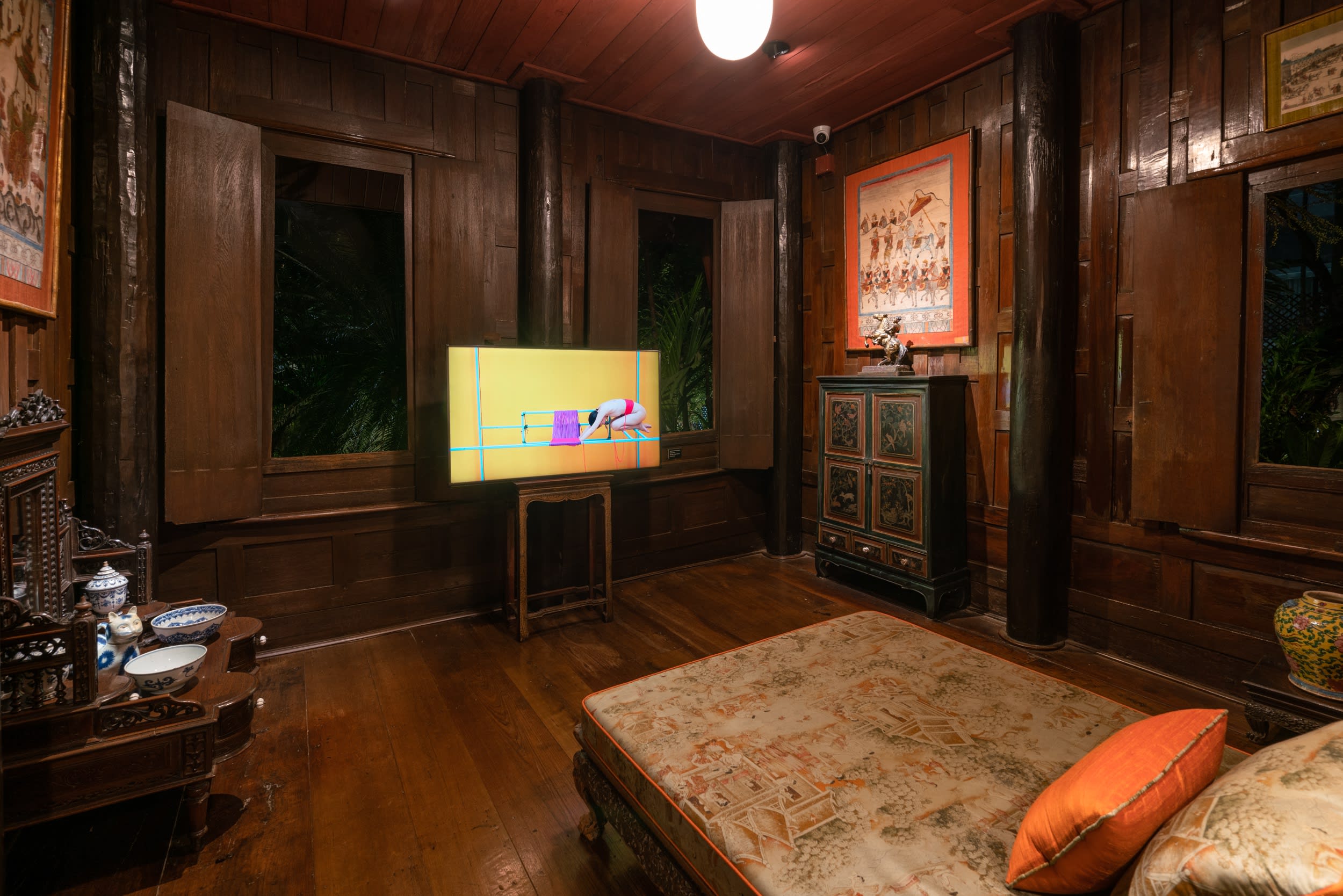 Kawita Vatanajyankur, 'Spinning Wheels'
Jim Thompson House Museum, Bangkok
Through February 28, 2022
Located within the historic wooden structure from which the Jim Thompson House takes its name, this exhibition of works by Kawita Vatanajyankur tackles systems of patriarchy. In her video-performances, displayed here on monitors amidst the building's original furnishings, the artist employs her own body like an inanimate object, used to perform household chores and other (often under-compensated) activities stereotypically relegated to women. Such tasks and jobs are, in her work, often related to textiles – a theme of particular resonance in the context of this historic silk production site.