Coming from across Asia, they pry open the past to carve a way forward
From a beauty queen-turned-revolutionary leader in Myanmar to exiled communist fighters in Malaysia, countless individuals have been overlooked in the official narratives of Asia's history. This year, artists from the region participating in Art Basel Hong Kong across the Insights, Discoveries, and Galleries sectors are reflecting on their past and unearthing untold stories. Whether it's through dismantling legacies of colonialism or building an archive of counter-histories, they are gazing back to forge bold new paths ahead. Here, we take a closer look at six of the strongest historically inspired presentations on view.
James T. Hong
Empty Gallery, Hong Kong
Giang Lê
Vin Gallery, Ho Chi Minh City
Sim Chi Yin
Fost Gallery, Singapore
Sawangwongse Yawnghwe
TKG+, Taipei
Saroot Supasuthivech
Nova Contemporary, Bangkok
Thai artist Saroot Supasuthivech's two-channel video installation River Kwai: This Memorial Service Was Held in the Memory of the Deceased (2021–22) is an imaginary memorial for thousands of forgotten Asian laborers who died building the Burma Railway in the province of Kanchanaburi during the Japanese occupation of Thailand during the Second World War. Exposing a gap in the country's collective memory, Supasuthivech shows how history can be manipulated and falsities perpetuated over time. In one channel of the video, we see a rapt audience – which includes children – attending an annual festival held by the Thai government in 2021. A loud display, the event commemorates the Allied prisoners of war (POWs) who lost their lives working on the railway while glossing over local sacrifice. But Supasuthivech has digitally distorted the footage of the festivities, including a theatrical performance recounting the POW experience. By defacing the actors' expressions and solarizing the film, he transforms a typically ebullient show into a dark, sinister narrative. Later the footage shifts to show empty seats, which he pairs in the second channel with poignant scenes of flowers left at graves in a nearby POW cemetery. The flowers, presumably left by locals, contrast sharply with the empty chairs, which signal a missing audience and lack of acknowledgement of the departed Asian workforce. Accompanying the video is a resin-cast sculpture replicating flowers that Supasuthivech found at the cemetery. By reappropriating the offering, he seeks to restore local agency and remind us of a buried past.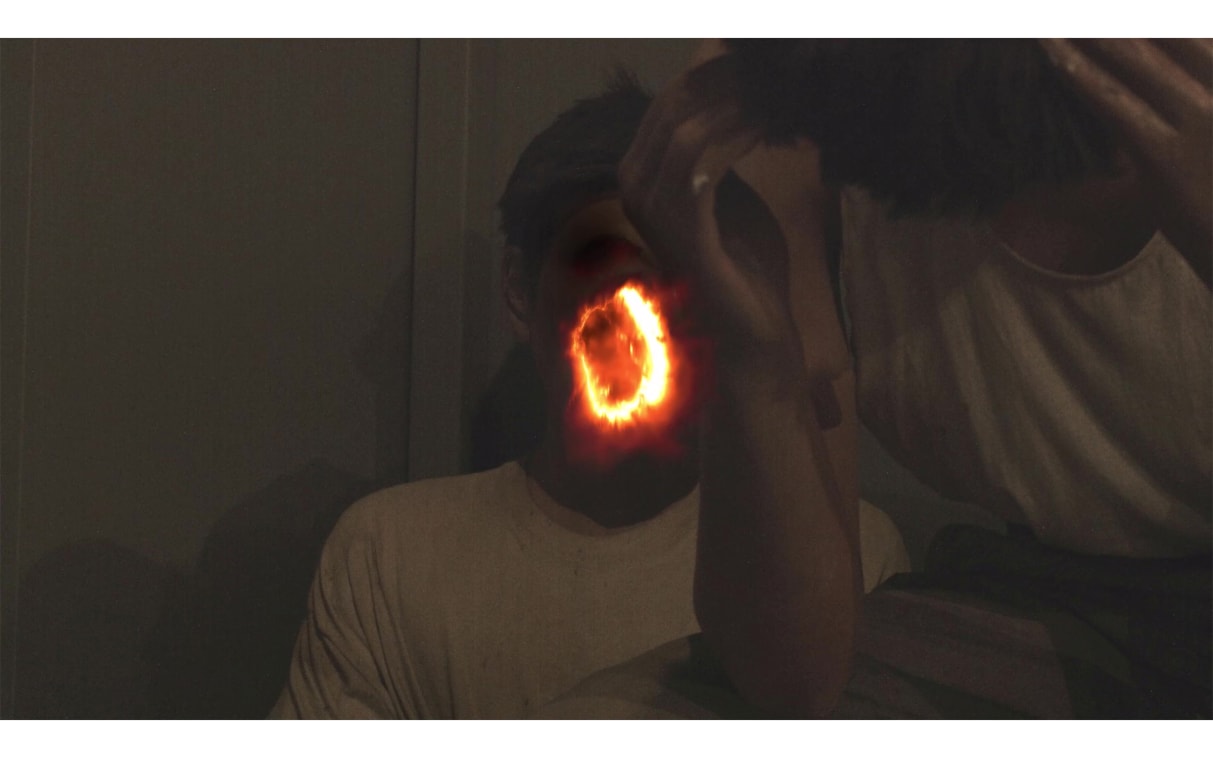 Etan Pavavalung
Asia Art Center, Taipei, Beijing, and Shanghai

.
.
continue reading