A flourishing showcase in Singapore returns for its fourth edition, highlighting the breadth of contemporary art in the region
In the Philippines, people often speak about bayanihan, which translates as 'a spirit of unity and solidarity.' 'It means coming together as a community. So if someone moves house, for instance, the whole neighborhood will help them pack and settle in,' says Isa Lorenzo, cofounder and director of Manila-based Silverlens Galleries. 'This same idea is very real for art communities across Southeast Asia. The success of one artist is everyone's success.'
The spirit of community has shaped the practice of many Southeast Asian artists. Lorenzo gives the example of the Malaysian artist Yee I-Lann, whose work is among the highlights of the boutique art platform S.E.A. Focus, which opens in Singapore in January, during the city-state's annual art week.
Yee collaborates with the Indigenous people of Sabah in northern Borneo, inviting them to create traditional tikar, woven mats made of bamboo that Yee adorns with contemporary motifs. Historically, communities across the region have made mats that function as utilitarian and ceremonial objects used for social gatherings. Silverlens will be showing a series of Yee's weavings on the S.E.A. Focus online platform that feature ampersands, a symbol the artist uses to represent the need for inclusivity and cooperation among people locally and globally. 'I-Lann is conscious about acknowledging the weavers in the authorship of the artworks,' says Lorenzo. 'It's very different from a Western or Chinese artist who has a monumental object fabricated by 50 people who remain in the background.'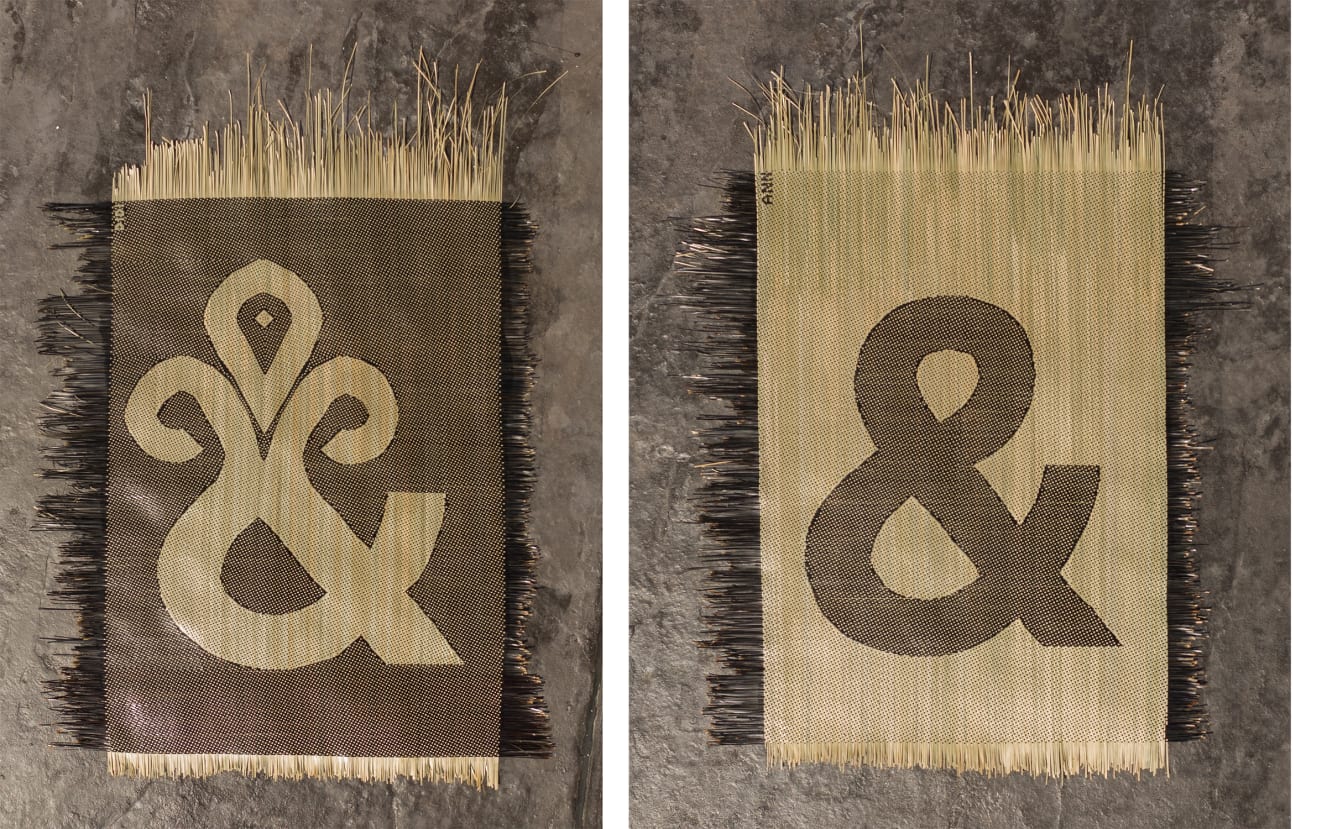 Yee I-Lann, Exploding (white) and & (black), 2021. Courtesy of the artist and Silverlens, Manila.
Yee is just one example of the rich array of artists emerging from the region who are only now entering the global spotlight, among them Mit Jai Inn, who recently staged his first major solo European show at Ikon Gallery in the UK. 'When we talk about Asia, artists from China, Japan, and Korea are more dominant, but it's important to understand that the world of contemporary art does not stop there,' says Emi Eu, Project Director of S.E.A. Focus and Executive Director of STPI – Creative Workshop & Gallery, the Singaporean non-profit organization that launched S.E.A. Focus in 2019. 'Because of the diversity of countries in Southeast Asia, there is so much to discover.'
The platform, which is collaborating with Art Basel for the first time this year, is aiming to raise awareness about the under-recognized region. Curated by Singapore-based independent curator Joyce Toh, S.E.A. Focus is organized around the theme of 'chance…constellations' and will be held in Tanjong Pagar Distripark, an industrial complex in a historic port district. Taking the format of a large, free-flowing exhibition, it will feature work from 24 galleries, showing emerging and established artists from places ranging from Yogyakarta to Hanoi.
Unlike major global art hubs, art scenes in Southeast Asian cities suffer from a lack of institutional and government support, which has given rise to an art ecology built on grassroots community efforts. 'Everyone has voiced concern about the situation, but this informal infrastructure has actually led to some fantastic artists coming out of Indonesia,' says Jasdeep Sandhu, the founder of Singapore-based Gajah Gallery, who opens a new space in Jakarta in January. In 2012, Sandhu opened a foundry in Yogyakarta with the Indonesian artist Yunizar, called Yogya Art Lab (YAL), to foster the creation of large-scale works.
Another Indonesian artist, Uji Handoko Eko Saputro (aka Hahan) – known for his vivid paintings and embroidery work that fuses traditional Javanese mythology with the aesthetics of comic culture and street art – has been creating works using the foundry. Recently he has expanded his practice and created a bronze sculpture, The Irony of the Protester (HK UMP 40 series) (2021), which will be exhibited in a group show at Sandhu's Singapore space, located in the same industrial complex as S.E.A. Focus. The work consists of birds with currency symbols engraved on their eyes perched on a German submachine gun with a twisted barrel. It critiques the blinding desire for wealth and prestige in the artworld while also alluding to the power wielded by the Western art market in comparison with the Indonesian art market, which remains on the periphery.
For many artists in the region, the personal and political are deeply entwined. Sutima Sucharitakul, founder and Director of the Bangkok-based gallery Nova Contemporary, highlights Thai and Burmese artists in particular. At S.E.A. Focus the gallery will be exhibiting Myanmar-born, Netherlands-based artist Sawangwongse Yawnghwe. His grandfather was Myanmar's first elected president, who was assassinated during a military coup in 1962, after which his family was driven into exile. The oil painting Aung San and U Raschid (2017) draws on a historic photograph of the prominent Muslim student activist U Raschid, who held several ministerial positions, with his friend Burmese independence activist and revolutionary General Aung San (the father of Aung San Suu Kyi). Yawnghwe painted the work as a statement of acceptance of the Rohingya people and one of protest against the persecution of their community that began in the country in 2016. As the violence against the Rohingya people continues, the work resonates strongly today. Eschewing the accepted historical narratives often unpacked by contemporary artists in the West, artists such as Yawnghwe are unearthing critical fragments of their past and creating a valuable archive of counter-histories that have been deliberately erased.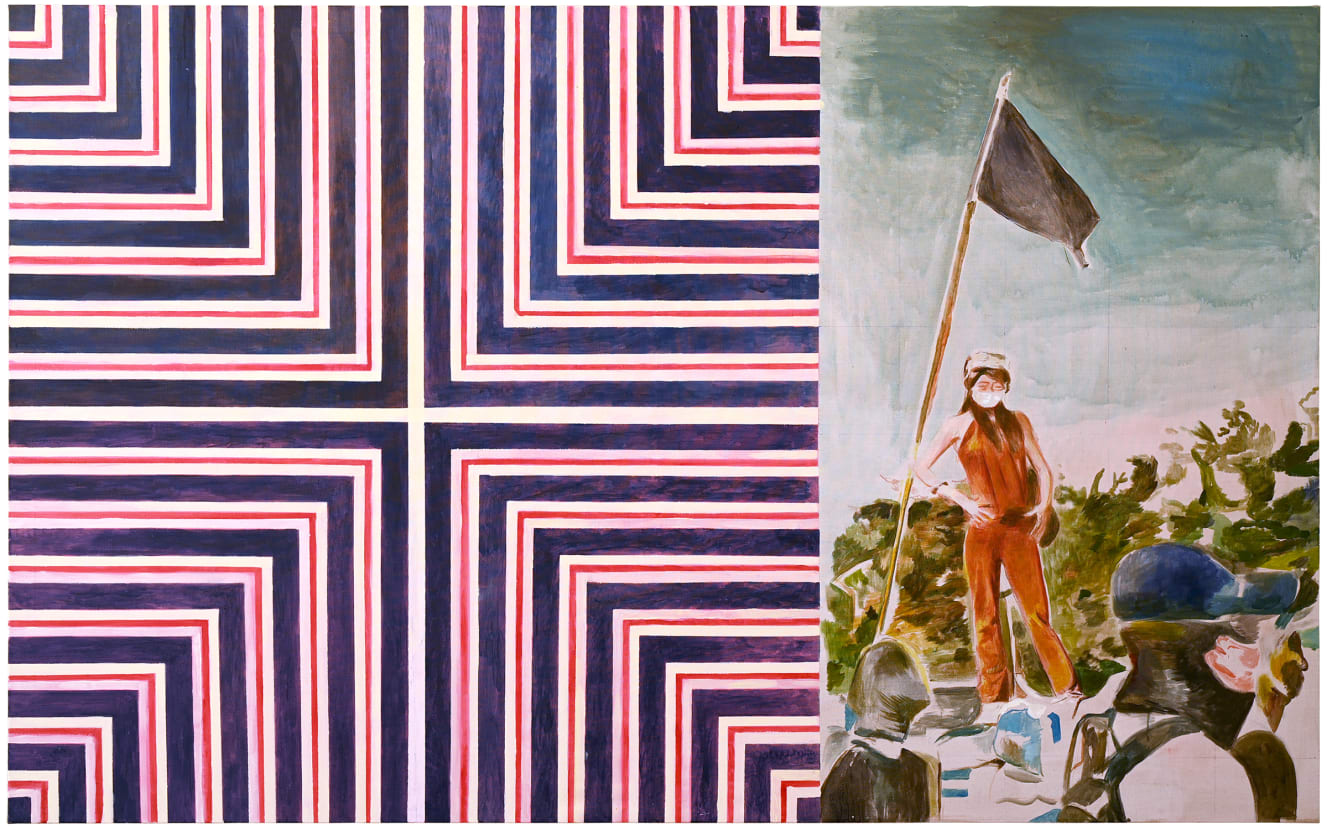 Sawangwongse Yawnghwe, Protest I, 2021. The work was presented by Nova Contemporary in 'OVR: Portals', Art Basel's inaugural curated edition of Online Viewing Rooms, which took place in June 2021. Courtesy of the artist and Nova Contemporary, Bangkok.
Meanwhile in Vietnam, the impact of the war lingers in the mind of artists including Tulip Duong, who was raised during the Doi Moi period in the 1980s. Experiencing the fallout of the war, she bore witness to the rapid socioeconomic and cultural transformation of her homeland. Hanoi-based Cuc Gallery is showing nine new sculptures by Duong that are composed of striking crystalline quartz forms that sprout from gritty industrial gearboxes. 'The mechanisms were used between the 1980s and 1990s, when the country was rebuilding and recovering from the war. They are symbolic of the new Vietnam,' says Pham Phuong Cuc, Director of Cuc Gallery, of the found objects. In the wake of the pandemic, the gleaming quartz crystals, a durable material often associated with healing, also signal hope.
In contrast, political concerns take a backseat for several young artists in Singapore, who are reflecting on their place in a rapidly transforming young nation. 'They are unafraid to address their identity, distinguishing themselves from the postcolonial West,' says Audrey Yeo, founder of Yeo Workshop. Among the artists that Yeo Workshop is exhibiting at S.E.A. Focus is local artist Sarah Choo Jing, whose photography and video installations explore voyeurism and alienation in the city-state. After observing elderly people sleeping in hawker food centers, she was inspired to photograph individuals in the eateries. While these spaces are often touted as communal hubs promoting a common national identity, she discovered numerous isolated people there, which led her to create a digital print that is a poignant portrait of loneliness in the city.
A growing number of Southeast Asian artists are garnering attention for their powerful digital and video works. Reflecting this, S.E.A Focus has introduced a film sector, which will be hosted in a pop-up screening room, Projector X. 'It's an old disco club along the Singapore River that used to host drag performances,' says Eu of the vibrantly lit venue. 'Now it has been transformed into a screening room.'
Among the film program's highlights is Cambodian artist Khvay Samnang's critically acclaimed Preah Kunlong (The Way of the Spirit) (2016-17), first shown at documenta 14. The work was the result of an immersive research process, during which the artist spent months with the Indigenous Chong people, who live primarily in the Areng Valley in a southwestern province of Cambodia. At the time, the community and their land, home to several endangered animals, was under threat from the Chinese state-owned company Sinohydro, which planned to build a hydroelectric dam that would destroy the area (the project was later shelved due to strong local opposition). Samnang's video shows semi-nude choreographer Nget Rady donning animal masks and dancing amid a striking waterfall and lush rainforest: a dramatic homage to the natural world and mystical beliefs of the Chong people.
Alongside Projector X, large-scale immersive video installations will take center stage at a new pop-up being held next door to S.E.A. Focus by the Singapore Art Museum (SAM) while the museum's permanent buildings are being revamped. Highlights include Malaysian artist Gan Siong King's playful video essay Kecek Amplifier bersama Nik Shazwan (Talking about Amplifier with Nik Shazwan) (2019), which loosely traces the making of a bespoke electric guitar amplifier, as well as a show featuring Thai artist Korakrit Arunanondchai's cinematic installations.
While artists like Arunanondchai have exhibited widely in institutions across the globe, others in the region are struggling to get their voices heard. Gallerists such as Pham, however, remain optimistic. 'We have so many stories to tell and so much to offer,' she says. 'With enough time and momentum, we will definitely grow.'
---
S.E.A. Focus is a showcase of contemporary art from Southeast Asia. It will take place from January 15 to 23, 2022 at Tanjong Pagar Distripark in Singapore. Tickets can be purchased here.
Payal Uttam is an independent writer and editor who divides her time between Hong Kong and Singapore. She contributes to a range of publications including Artsy, The Art Newspaper, South China Morning Post, and The Wall Street Journal.